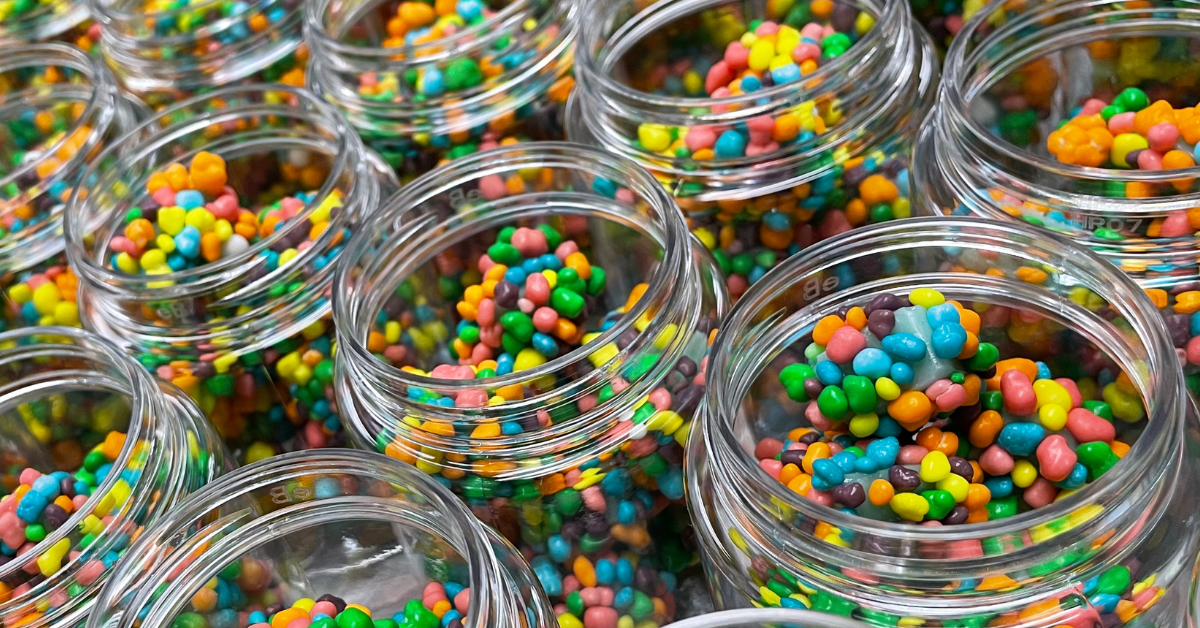 Posted on
---
How Strong Are THC Nerd Ropes?
Nerds Ropes have become a popular choice among cannabis enthusiasts, offering a tasty and unique way to experience high dosages of THC. In this article, we'll take a closer look at these delectable treats and explore their rising popularity. From the science behind their potency to the legal and ethical considerations surrounding them, we'll cover it all. So, let's dive in!
What Are THC Nerd Ropes?
Nerd Ropes are bite-sized candy ropes coated with tiny, crunchy Nerds candies. But what makes them different from other edibles on the market is their potency. Veed Nerd Ropes contain 50mg of Delta 9 THC, making them a strong choice for those looking for a more intense effect.
Nerd Ropes, the beloved cannabis-infused edibles, have taken the market by storm with their unique blend of sweet and tangy flavors. Originating from the creative minds of confectioners, these delectable treats have quickly become a favorite among cannabis enthusiasts. The perfect combination of chewy texture and mouthwatering taste makes Nerd Ropes a delightful indulgence for anyone seeking a euphoric experience.
As the popularity of cannabis-infused edibles continues to soar, Nerd Ropes have emerged as a sought-after choice due to their delicious flavors and potent effects. With the growing demand for higher THC content in edibles, Nerd Ropes have stepped up to the challenge, offering a range of options to cater to varying preferences and tolerance levels.
Whether you're a cannabis connoisseur or simply curious about exploring the world of edibles, Nerd Ropes are sure to satisfy your cravings and provide an enjoyable experience. So why not treat yourself to this delightful and enticing cannabis-infused edible? Indulge in the sweetness and tanginess of Nerd Ropes, and let their enticing flavors take you on a journey of relaxation and bliss.
How are Nerd Ropes made?
To create a delicious Nerds rope, the process begins by carefully crafting a soft and chewy gummy. This gummy is meticulously coated with the iconic bubble bit candy, layer by layer, resulting in the beloved treat we all know and love. The combination of the irresistibly sweet gummy texture and the satisfyingly crunchy candy coating creates a delightful contrast that tantalizes the taste buds and makes Nerds rope a truly unique and enjoyable treat. With each bite, you are transported into a world of flavor where the fruity goodness of the gummy intertwines with the zesty burst of the candy coating. Indulge in the sweet symphony of textures and flavors as you savor every moment of this delectable confectionary masterpiece.
The Growing Popularity of Nerd Ropes
With the ever-growing demand for cannabis edibles, Nerd Ropes have swiftly emerged as a favored option among users. These delightful treats offer a unique combination of convenience, discretion, and indulgence, allowing individuals to enjoy the benefits of THC without the need for smoking or vaping. Moreover, Nerd Ropes are not only popular among experienced users due to their high THC content, but they also cater to beginners, as the 50 mg can be easily divided into multiple servings, providing a customizable experience. Whether you're seeking a new way to consume cannabis or simply looking to explore the world of edibles, Nerd Ropes offer a delectable and versatile choice that satisfies both the taste buds and the desire for a controlled THC intake.
In addition to being delicious, Nerd Ropes also offer a discreet and convenient way to consume cannabis. Unlike smoking or vaping, these edibles do not produce any smoke or strong odor, making them ideal for use in public spaces or around non-cannabis users. However, it's still important to be mindful of others and ensure that you are following all local laws and regulations when consuming any form of cannabis.
Responsible Consumption
While Nerd Ropes edibles offer a delicious and convenient way to consume cannabis, we always encourage responsible usage. It's important to start with a low dosage and wait for the effects before consuming more. Overconsumption can be dangerous due to its potent effects and the irresistible taste that often accompanies it. Indulging excessively in certain substances or activities can lead to adverse health consequences and detrimental outcomes. It is important to be aware of the potential risks associated with overconsumption and exercise moderation in order to maintain a balanced and healthy lifestyle.
it's important to note that not all edibles are created equal. It's crucial for individuals to carefully read and understand the packaging and labeling of any cannabis product before consuming it. This includes checking the serving size, potency, and any potential allergens or other ingredients. Veed takes its commitment to excellence seriously, going above and beyond to ensure customer satisfaction. With a strong focus on clear labeling, Veed ensures that product information is easily accessible to consumers. Moreover, Veed ensures compliance with Florida hemp packaging standards, guaranteeing that their products meet all necessary regulations. Not stopping there, Veed also prioritizes child-proof and tamper-proof packaging, providing an added layer of safety and security. With these measures in place, Veed sets a high standard for quality and customer care in the industry.
It's important to keep Nerd Ropes out of reach of children and pets, as they can mistake them for regular candy. It's also crucial to store them in a cool, dry place to maintain their potency and prevent any accidental consumption. Remember, responsible and safe use is key when it comes to enjoying any form of cannabis-infused edible. So go ahead and indulge in a Nerd Rope, just make sure to do so responsibly. Stay informed and stay safe!
What Makes Veed THC Ropes Different?
In addition to manufacturing top-of-the-line edibles, we are dedicated to creating a comprehensive platform that empowers individuals to educate themselves about the diverse forms and versatile applications of cannabis. Our goal is to foster a community where people can explore the benefits, understand the nuances, and navigate the ever-evolving landscape of this remarkable plant. With a wealth of resources, curated content, and expert insights, we aim to empower individuals to make informed choices and embrace the potential of cannabis in a responsible and meaningful way.. We strive to promote responsible consumption and support those who choose to incorporate cannabis into their lifestyle. Our mission is to break the stigma associated with cannabis and provide a safe, informative space for everyone to explore and learn about this versatile plant.
In conclusion, Nerd Ropes are just one of many forms of cannabis-infused edibles that offer a discreet, easy way to consume cannabis. It's important to be responsible and mindful when using them, as well as exploring other options available. With Veed, you can trust that you are well-informed and have access to a variety of high-quality cannabis products. So why not try out a Nerd Rope or explore other forms of cannabis consumption? It's all about finding what works best for you and using it in a responsible, safe manner. Happy exploring!
NAVIGATE
VEED LABS
6187 NW 167th Street, S H9, Miami Lakes, Florida 33014
FDA Disclaimer
All products made and formulated in our lab contain below 0.3% THC on a dry weight basis. The statements made regarding these products have not been evaluated by the Food and Drug Administration. The efficacy of these products has not been confirmed by FDA-approved research. These products are not intended to diagnose, treat, cure or prevent any disease.