Wholesale Delta 9 nerd ropes from boast a chewy gummy core with a crunchy nerd coating. Each rope is infused with 50mg of premium extracted CAT-9 Delta 9 THC from hemp. Comes with 3 nerd ropes. 1 Case comes with 24 units.
Delta 8 FREE***
ABOUT

+

150MG Delta 9 Nerd Ropes

50MG Delta 9 Per Rope

Comes with 3 Ropes

$8/unit

1 Case = 24 units
WHEN WILL MY ORDER ARRIVE?

+

Wholesale orders are shipped within 72HRS (excluding weekends).

UPS ground 3-5 business day shipping is the standard method unless otherwise specified at checkout!
Wholesale Delta 9 nerd ropes of VEED are made first by crafting a flavor packed gummy rope that's infused with 50mg of THC. Once the gummy is ready, it gets coated in authentic nerds candy.
You'll find our wholesale delta 9 nerd ropes in a variety of tasty flavors: Grape Soda, Peach Mango, Pink Lemonade, Blue Raspberry, and Watermelon.
Premium legal THC Edibles
The 2018 US Farm Bill clarified that products below 0.3% THC on a dry weight basis are legal in all 50 states. This means, our nerd ropes pass that law with flying colors! Enjoy our 50mg wholesale THC nerd ropes legally in all 50 states.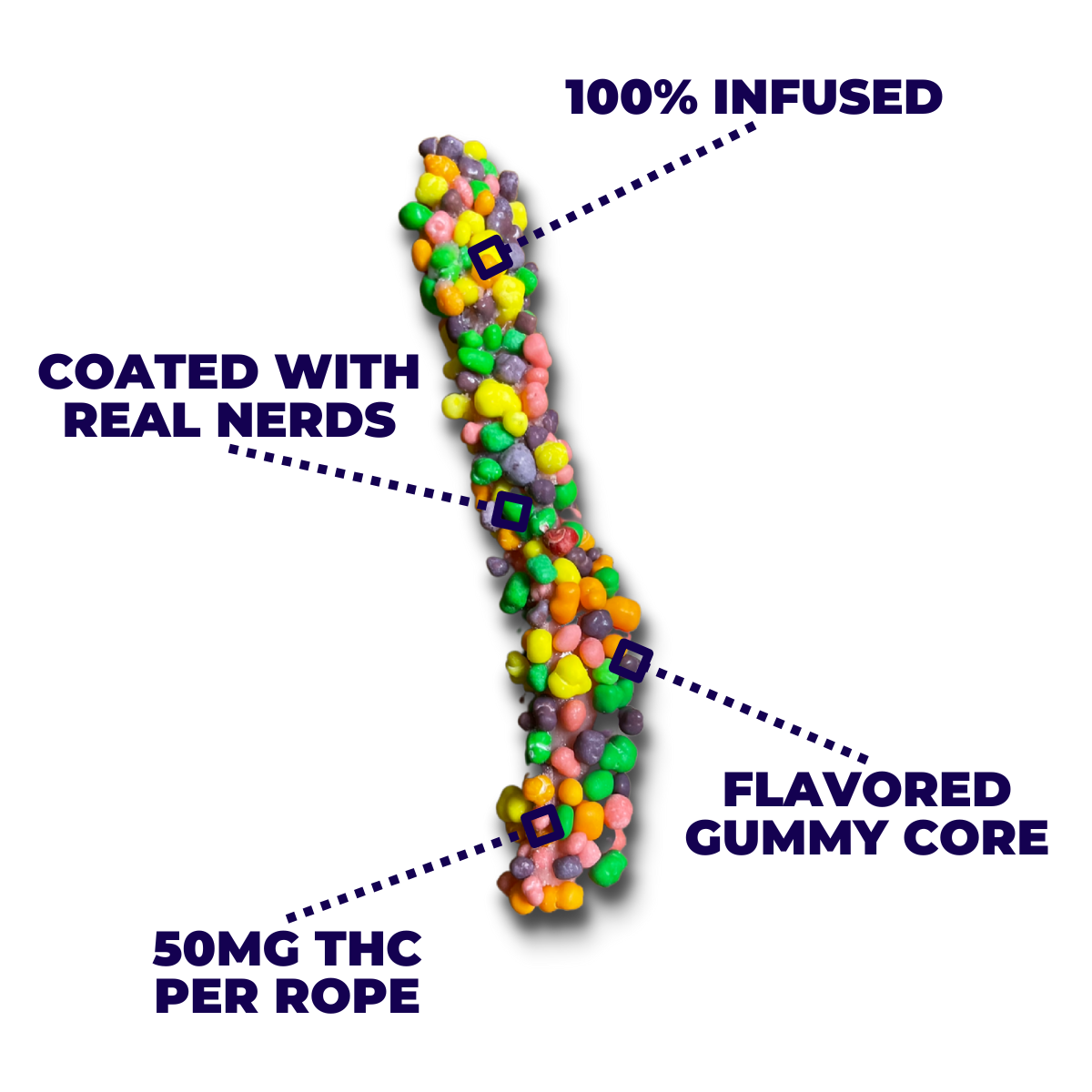 PRODUCT SPECS
Our wholesale Delta 9 Nerd Ropes aren't like most! Check out some of the cool qualities you won't find with other nerd ropes on the market.
100% INFUSED - COATED WITH REAL NERDS - FLAVORED GUMMY CORE - 50MG THC PER ROPE
VEED Labs is it's OWN manufacturer. Meaning, all of our products are produced right under our own roof here in Miami, FL. We don't source products from other companies so we are able to ensure quality every step of the way.